Billboard Design
Billboards are a time-tested technique for getting your company's message out there. We're sure you can think of brilliant billboard designs that grabbed your attention, made you laugh, and convinced you to take the next exit and grab a bite to eat.
Make sure your graphic designer has extensive experience with billboard design.
Even if you have an awesome in-house graphic designer, outdoor advertising is a whole different ball game than logo design or online branding. If you're investing in large format printing, we can work with your designers to come up with the best billboard using our knowledge built from experience.
Camel City has more options than a traditional freeway billboard.
Camel City Posters can create flexible and adaptive designs for a variety of mediums to creatively advertise your business. Imagine sharing your company's message on the go, on the side of a moving vehicle, or your branding fitted to the side of a large building.
REQUEST A QUOTE
Request a quote on your billboard today and see the difference Camel City's team of dedicated design experts can make.
Go beyond vinyl with Camel City Posters. Upgrade to innovative new technologies in billboard design.
Vinyl billboards are still a great way to make your brand recognizable to a wide audience. But did you know new techniques in billboard design allow for more interesting and eye-catching features?
Camel City's out of the box billboard design includes awesome features like:
Backlit/reflective vinyl billboards
Billboard extensions
Channel letter signage
Custom 3-dimensional projects
Internally lit light boxes
LED lighting integration
Pressure sensitive signage
Expand your expectations and let Camel City design something unlike anything that comes to mind when you think "billboard." Let's design something unique and creative together.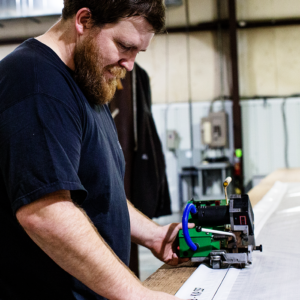 Keep up with the evolving trends in digital billboard design with Camel City Posters.
We're not limited to printed vinyl billboards, we're experts in digital billboard design too! If you already have a digital billboard and need help keeping up with the design work, our graphic designers can handle it. Graphic design for digital billboards takes a skillset learned from experience. Trust our designers to pick out the colors, fonts, and images to make your digital billboard stand out.

Camel City Posters billboard design combines style with practical durability.
Our designs are more than just pretty. Camel City Posters takes every effort to ensure your billboard is made from the best materials so it lasts as long as possible.